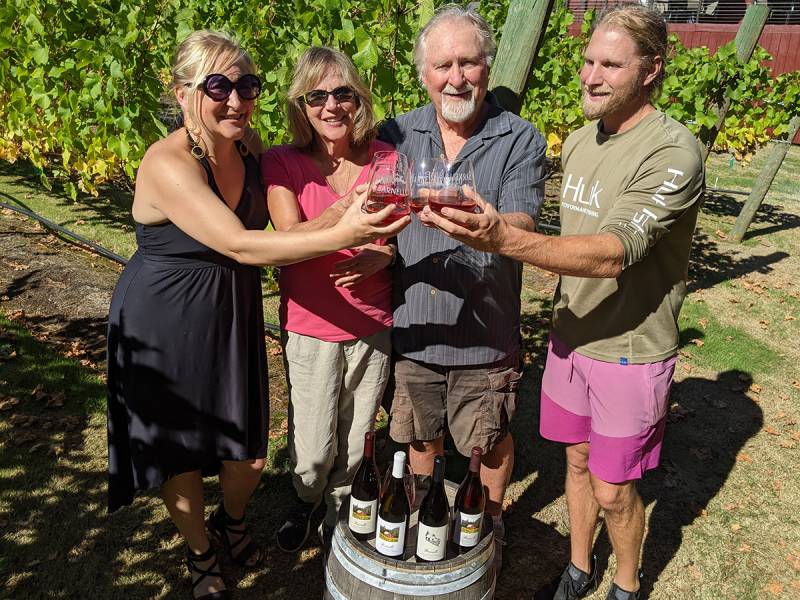 "Big" Ed Wagner
A long, long time ago (the early 80's) in a land far, far away (California), Big Ed made his first attempt at wine-making, but a move to Oregon with his two little kids and beautiful wife, and about 30 years of working, interrupted his vineyard dreams. Fast forward to 2012 and retirement, and Ed decided to pick up his interest in wine on a much larger scale! A man with an engineer's mind and an artisan's soul, Ed takes pride in lining his rows up to 1/32 of an inch and harvesting his grapes at EXACTLY the right Brix level. Lucky for all of us, this focus on perfection leads to some truly excellent wine.
Christina Wagner
The support and professional green thumb that makes Big Ed's wild ideas come to fruition (literally!), Christina came up with the name Barnello based on a mash-up between our family's love of Italy and its famous Brunello wines, and the fact that most of our wine-making operation takes place in the barn beside the vineyard. Christina is a horticulturalist and plant whisperer whose 8 acres of gardens welcomed 400 little bare root grapes that grew into the monster fruit-bearing vines we enjoy today. You can enjoy her flawless aesthetic as you walk about the green vineyard and toast in the cellar or viewing deck.
Kim Wagner
A charter member of the original wine team, Kim power-washed the inside of the barn to make it food-grade spotless and is an avid participant in Harvest every year.  An English teacher and connoisseur of language, she writes about her family's adventures in wine-making and daydreams about new ways to turn wine words into party games.
Ed "Edj" Wagner
The visionary with the reliable muscles, little Ed is Big Ed's backup on all jobs no matter how strenuous. He immediately saw that what Big Ed had started was going to get bigger than a hobby, and that the excellent setting for wine-drinking should be shared with others. Then he valiantly cut through a sea of red-tape to make it possible. A constant well of energy and encouragement, "little" Ed is always ready to help out whenever wine duty calls!