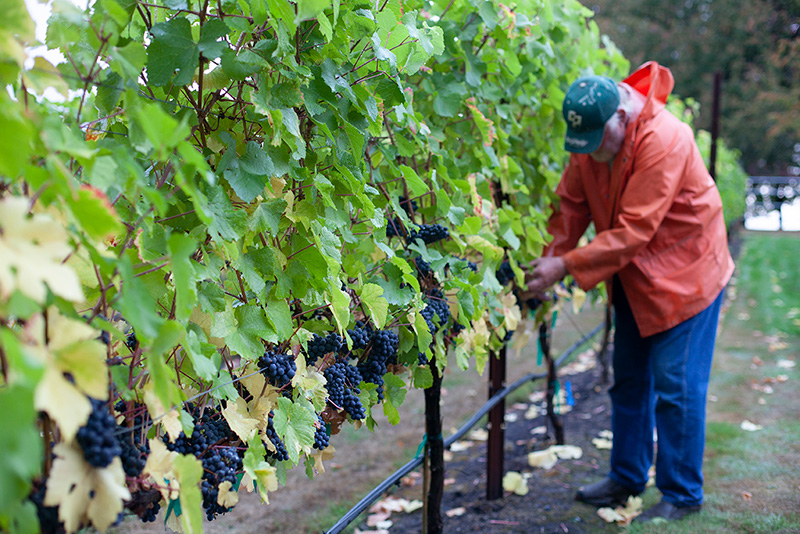 It's been seven years since my dad, with an engineer's precision and an artisan's pride, planted his vineyard and began to make wine.  From his perfectly straight rows to his finely calibrated fermentation process to his delight in sneaking tastings for us straight out of the barrel with the glass thief, my dad has approached wine-making like everything else in his life: with an eye towards perfection, an eagerness to learn, and great joy in sharing.  Starting with just a field and a barn, he has created Barnello Winery step-by-step, and we're excited to share the process with you all, hopefully over a glass of excellent Pinot Noir or Chardonnay!  Our whole family has had a hand in making, and drinking, dad's awesome wine, and this was the year we meant to share it with the world.  And then Covid.
Wine is, above all, about connections.  Whether you enjoy a glass with family at dinner, with friends watching the sunset, on a great date, at happy hour with your coworkers, or during a wedding toast, the whole point of wine is to take a moment to relax and share a moment with your fellow human beings.  Whether we are belly-laughing together or comforting each other, great wine conveys a spirit of conviviality, warmth, and fellowship.  This year, while we all do our best to isolate and keep each other healthy, we may feel that we're missing out on this human connection.
One of the great events of the year for us at Barnello is Harvest, when we need many hands to pick all the grapes in the vineyard in the span of a day (often two days, since the Chardonnay and Pinot Noir are often ready at different times).  Many hands make for great camaraderie, and the day always ends with, of course, some excellent wine drinking.  We're not sure who will be able to come to Harvest this year; although wine is wonderful, the health of our friends is more important.  But I refuse to lose the connection.
This year, I'm going to use dad's wine as an excuse to keep that connection alive.  Although it has to be virtual, I'm going to reach out to friends and family to share a glass of Barnello's finest.  Call it Online Wine.  I hope you'll do the same: get a Zoom group together with your cousins, sit six (or ten) feet apart in a friend's backyard, call your grandma, and have a glass of wine together while enjoying each other's company.  Covid wants to isolate us, and staying connected is one way to fight back.  And when this is finally over, we look forward to sharing a glass of wine with you in person at our lovely vineyard.  From our family to yours, stay healthy, stay connected, and CHEERS.